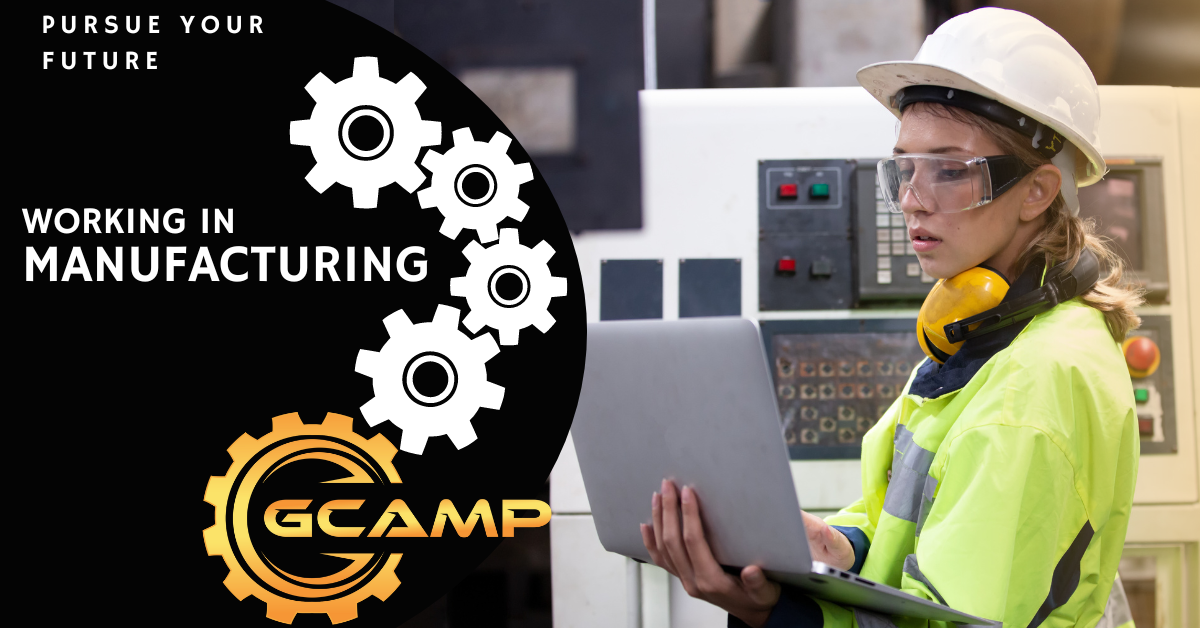 Learn More About Manufacturing Jobs
Many people have to come together as a team to make the products we use every day. Scroll down to learn about some specific jobs.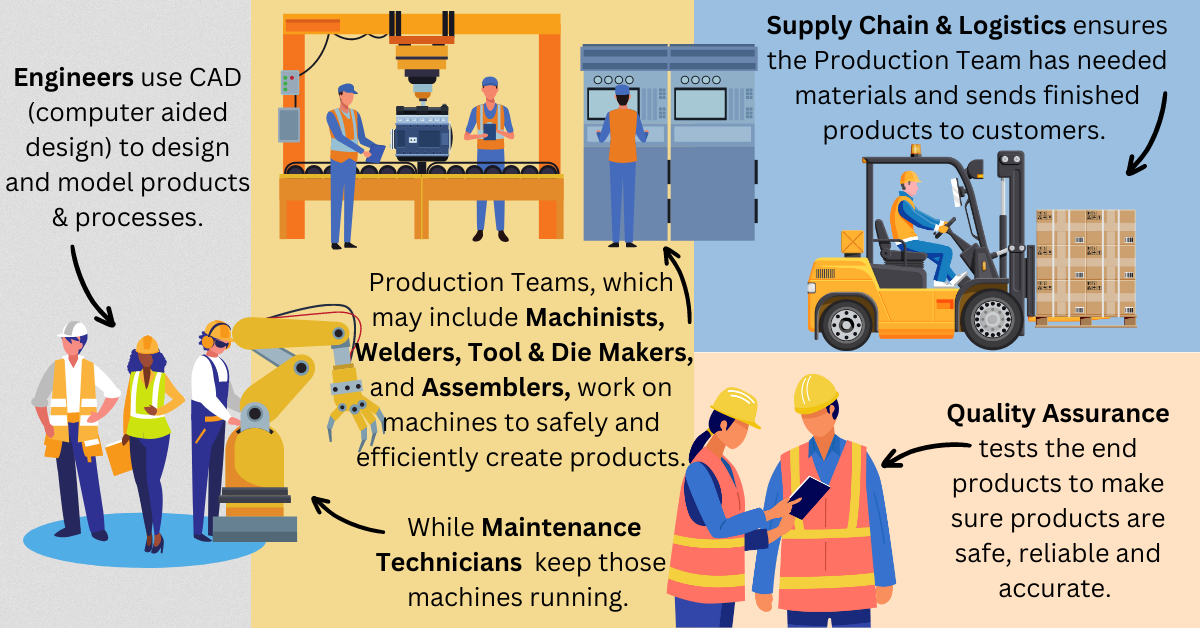 Engineers
Below are just a few of the types of engineers found in manufacturing. Click on the links to find out more.
- Design, develop, test, and evaluate integrated systems for managing industrial production processes, including human work factors, quality control, inventory control, logistics and material flow, cost analysis, and production coordination.
- Perform engineering duties in planning and designing tools, engines, machines, and other mechanically functioning equipment. Oversee installation, operation, maintenance, and repair of equipment.
- Design chemical plant equipment and devise processes for manufacturing chemicals and products, such as gasoline, synthetic rubber, plastics, detergents, cement, paper, and pulp, by applying principles and technology of chemistry, physics, and engineering.
- Evaluate materials and develop machinery and processes to manufacture materials for use in products that must meet specialized design and performance specifications. Develop new uses for known materials.
Production Team
Below are just a few of the types of employees creating products in a manufacturing plant. Click on the links to find out more.
- May also be known as CNC (Computer Numerical Controlled) Machinists. Set up and operate a variety of machine tools to produce precision parts and instruments out of metal. Includes precision instrument makers who fabricate, modify, or repair mechanical instruments. May also fabricate and modify parts to make or repair machine tools or maintain industrial machines.
- Use hand-welding, flame-cutting, hand-soldering, or brazing equipment to weld or join metal components or to fill holes, indentations, or seams of fabricated metal products.
- Analyze specifications, lay out metal stock, set up and operate machine tools, and fit and assemble parts to make and repair dies, cutting tools, jigs, fixtures, gauges, and machinists' hand tools.
- Work as part of a team having responsibility for assembling an entire product or component of a product.
- May also be known as Industrial Machinery Mechanics. Repair, install, adjust, or maintain industrial production and processing machinery or refinery and pipeline distribution systems. May also install, dismantle, or move machinery and heavy equipment according to plans.
Supply Chain & Logistics
Below is more information on the employees responsible for obtaining and moving resources. Click on the links to find out more.
- Direct or coordinate production, purchasing, warehousing, distribution, or financial forecasting services or activities to limit costs and improve accuracy, customer service, or safety. Examine existing procedures or opportunities for streamlining activities to meet product distribution needs. Direct the movement, storage, or processing of inventory.
- Design or analyze operational solutions for projects such as transportation optimization, network modeling, process and methods analysis, cost containment, capacity enhancement, routing and shipment optimization, or information management.
Quality Control
Below is more information on the employees responsible for testing finished products. Click on the link to find out more.
- Conduct tests to determine the quality of raw materials, bulk intermediate, and finished products. May conduct stability sample tests.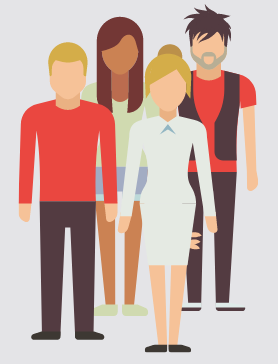 Don't forget the rest of the team!
Manufacturers also require office staff to keep their business running.
Sales and Marketing people connect with customers.
HR (Human Resources) staff ensure that employees are safe and happy.
IT (Information Technology) staff maintain the computer hardware, software, and networks.
Ready to start your manufacturing career? Check out our job board for entry level internships, apprenticeships, and jobs you can get now!