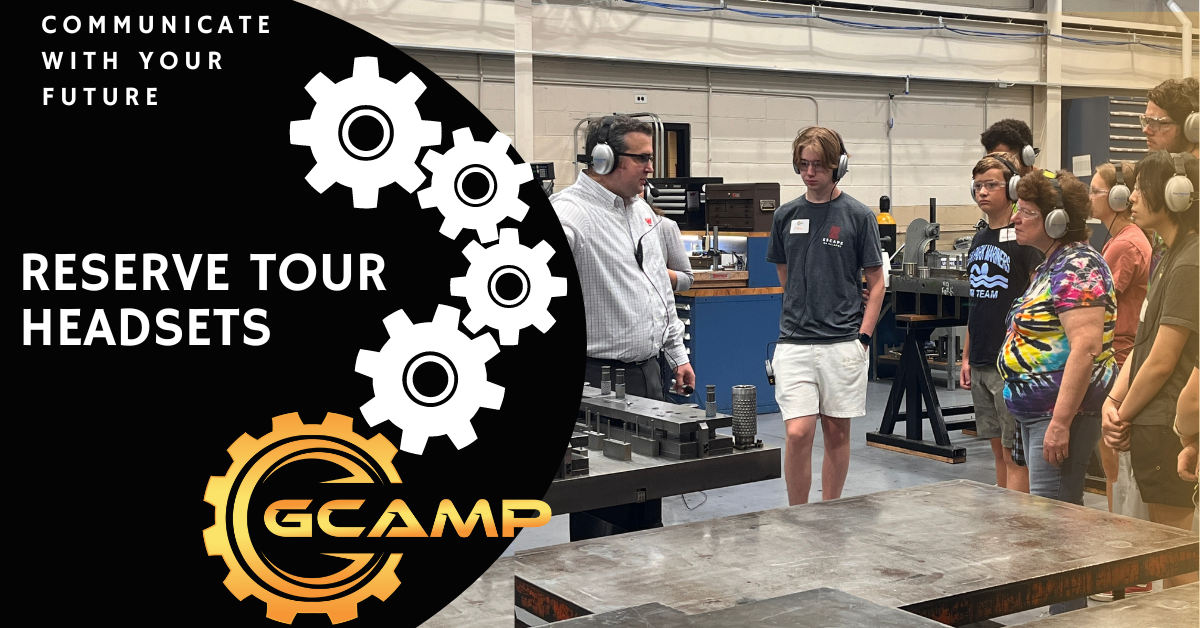 Connection begins with great communication. 
At GCAMP, we know that manufacturing tours are one of the best ways to connect with the next generation of manufacturers.  However, not all tours are created equal.  When tour participants struggle to hear guides, your tour can become boring, meaningless, or even dangerous.  
Headsets keep tours safe and engaging. 
Thanks to a generous grant from the Dunham Foundation, GCAMP has 30 tour participant headsets and 3 tour guide headsets available for GCAMP Champions on a first-come, first-served basis using GCAMP's online headset reservation calendar.
Headsets use is limited to purposes, such as student tours, that advance and promote workforce development within manufacturing.
Headsets can be reserved on a first-come, first-served basis using GCAMP's online headset reservation calendar.
A GCAMP representative will deliver headsets on the day of the tour and gather headsets post-tour.  A GCAMP representative will also be available to provide a quick Welcome and Introduction to Manufacturing presentation to students, if desired. 
Headsets are cleaned, maintained, and charged by GCAMP between tours.
There will be no charge for any of these services.  However, we respectfully request that GCAMP be considered a sponsor or co-sponsor of the tour.  
Reserve headsets today.  
GCAMP Champions can reserve headsets using our online reservation calendar.
The amount of times that you can borrow the headsets during the calendar year of your GCAMP donation is determined by your level of support.  
| | |
| --- | --- |
| GCAMP Champion Level | Amount of Times Per Year You Can Reserve Headsets |
| Mentor | 2 |
| Leader | 4 |
| Executive | 9 |
| Innovator | 18 |
| Visionary | Unlimited |
"Loved the headsets for sound protection and ease of hearing." 
- A parent from a GCAMP Summer Manufacturing Tour