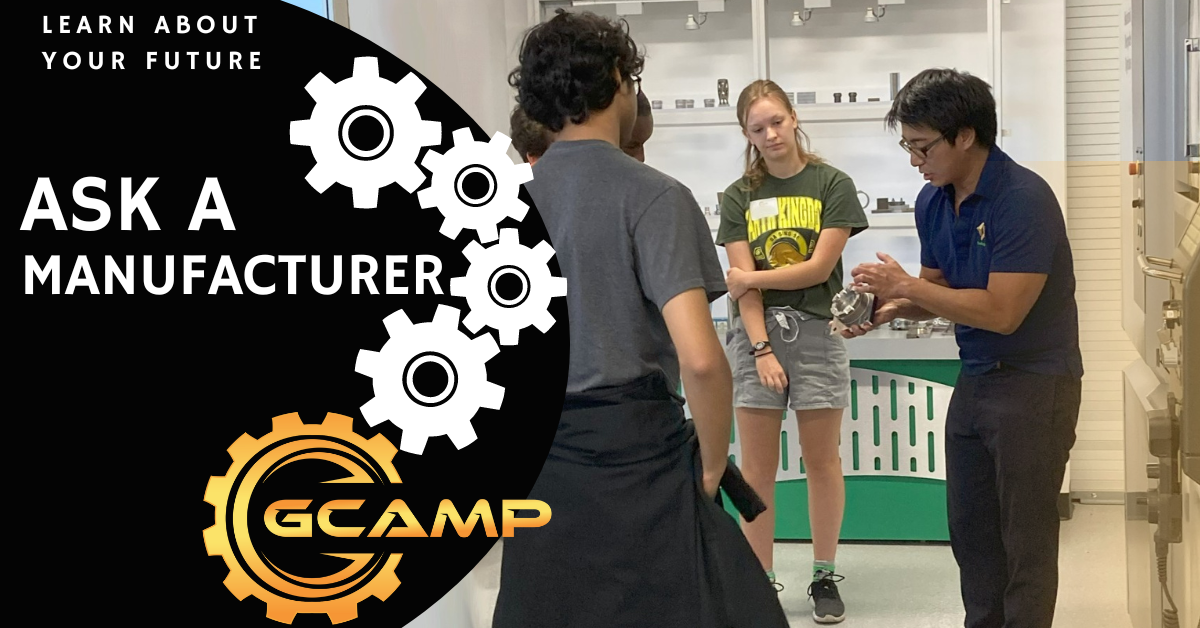 Do you have a question for a manufacturer??   Submit your question here!
We get asked a lot of good questions. Here are some answers to some of your questions about manufacturing careers.
---
Why did you choose Manufacturing?
"My dad was a machinist and his dad was a machinist. I enjoyed working with my hands and my high school metals teacher got me my first job in the industry."
​"I think it choose me after working in a manufacturing shop over the summer I wanted more and it was a paid education after high school. Not big loans lasting for years."
​Is there different type of jobs in manufacturing?
Yes! Advanced manufacturing touches a lot of territory from aviation to medicine to cell phones to dentistry and on and on….Engineering, design, research & development, project manager, CNC programmer, machine operator, etc.
What is the starting salary?
Starting in the trade with little to no experience, pay is normally $15-$18 per hour, increasing to about $18-21 with a 2 yr degree. The range goes from $25-$30 per hour or more with 10 years of experience. The median annual Computer Numeric Controlled Machine Operator salary is $41,996, as of November 07, 2016, with a range usually between $36,897-$47,146, however, this can vary widely depending on a variety of factors.
Is the manufacturing industry growing?
Yes! There will be a need for 3.5 million manufacturing workers over the next 10 years and 2 million of those jobs will go unfilled. In short, opportunities are wide-ranging. Deloitte and The Manufacturing Institute embarked on their third Skills Gap study, seeking answers to pressing questions on this question.
Education & Training
---
What level of education is required?
A high school diploma, but many of us get at least a 2-year technical degree or a 5-year+/- apprenticeship program. In most cases, we work and get paid a good salary during that education. Companies often pay for advanced degrees, like Bachelor's in Engineering, or business degrees if they're related to the job.
What type of courses did you take?
Science, Technology, Engineering, Math, Drafting, CAD, and Machine shop. Apprenticeship courses include basic shop math, measurements, machine shop theory, safety.
What training would I need to work in manufacturing?
A two-year technical college program can be a great start. Machine technology or engineering-related is a great place to start and getting certifications from NIMS, MMSC, and other professional organizations are highly recommended. Most technical training will be part of the on-the-job apprenticeship program. A good foundation in math, shop, and drafting (computer programming), will be helpful.
What are the most important skills and abilities for manufacturing?
​Good attitude and work ethic, a willingness to learn from others, mechanical aptitude, computer skills, and the ability to focus.
What the Work is Like?
---
​Can you describe your typical day?
Every day brings a new challenge. Usually working with others in the plant to plan and execute the next step in the manufacturing process, getting an order out the door. That's what keeps things interesting!
Do you work with others or by yourself?
Teamwork is almost always what manufacturers do and are good at. Most manufacturers today are investing heavily in team-building skills to help advance our technical capabilities.
What do you like best about working in manufacturing?
"I like to work with my hands and be able to see my accomplishments." "My job is never boring. Always challenging work, job security with a comfortable income." "I love the technologies we use today - CAD, CAM, CNC are all the advanced technology that is continuing to evolve. I love working on things on the computer and then seeing them take shape in the machine." "I love seeing products that I helped develop and working as a team to make it all happen."
What parts of your job do you find most challenging?
Project management, planning the flow of manufacturing the product completion on time or earlier and within budget. Multi-tasking is a challenge. There are many aspects to building a mold, so numerous things are going on at once. It's always interesting!
How many hours do you work in a typical week?
The "norm" in the trade when employed in a typical job shop is 8-10 hours per day 5 days per week, here in the Chicago metro area. Manufacturing workers enjoy a lot of flexibility in their hours. Normally they can work as much as they'd like depending on their industry. For example, energy-related manufacturing was slow in 2016 due to the drop in gas prices but some like aviation has a long backlog of orders. The industry is reflected in the global economy.
Getting Hired
---
​Are there any summer opportunities for high school students?
Apprenticeship opportunities are growing. With a 3-5 year commitment by a student and an employer, it is essential to try out the field first with an internship through your high school or a part-time or summer job. Check with your school or area manufacturing associations for career fairs and career nights leading to 'trial' employment opportunities.
What is the job market for manufacturing?
While there are no guarantees, almost everywhere there is manufacturing, there will be a need for skilled workers in advanced manufacturing. The average age of manufacturing workers today is about 55+ years old, so there are great opportunities for youth to bolster and replace this aging workforce.
Are there opportunities for advancement in manufacturing?
Yes. Tremendous opportunities. Endless opportunities. The problem-solving skills you learn as an advanced manufacturer will benefit you in any work environment no matter your career choices. Almost every shop owner started as an apprentice. Apprenticeships are back after going dormant for 2-3 decades. You should never stop learning.
Are there opportunities for self-employment?
Yes, many manufacturers are family-owned businesses.
​What advice do you have for someone considering manufacturing?
If you like to understand how things work and have a curious mind, advanced manufacturing can be a great career. If you're not mechanically inclined and prefer not to be challenged or work closely with others, go do something else. This is your life!